Positive Training for Positive Results
Happy Pooch Styling & Spa is a professional dog obedience training company in Lynden. We concentrate on aggressiveness, obedience training, behavior adjustment, potty training, and new puppy consulting. Our dog instructors are certified professionals that focus on addressing behavioral concerns without the use of fright, pain, or intimidation so that pets can take pleasure in the learning experience and absorb their teachings. Book an appointment inquiry online or give us a call at (360) 318-9949 with any questions.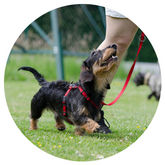 Beginner Training
Our obedience system is based on fun engagements that build focus. A great introductory class that teaches simple cues like sit, come and stay.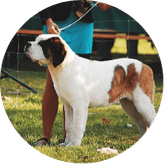 Show Dog Handling Class
Your dog is your best friend and if you think he or she has what it takes to compete as a dog show, let us help you prepare your dog for the show ring!

House Breaking & Potty Training
Our professional trainers can train dogs to eliminate in litter trays, potty pads, or outdoors.

Puppy Training
Help your puppy to develop critical social and obedience skills, plus you can get all your important puppy questions answered!
Come visit our pet supply store in Lynden, WA specializing in quality food, treats, and supplies for cats and dogs.