Positive Training for Positive Results
Happy Pooch Styling & Spa is a professional dog obedience training company in Lynden. We concentrate on aggressiveness, obedience training, behavior adjustment, potty training, and new puppy consulting. Our dog instructors are certified professionals that focus on addressing behavioral concerns without the use of fright, pain, or intimidation so that pets can take pleasure in the learning experience and absorb their teachings. Book an appointment inquiry online or give us a call at (360) 318-9949 with any questions.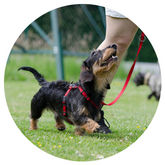 Beginner Training
Beginner training for pet dogs is essential. Dogs intend to please, so with these beginner techniques as well as methods, they will provide your pet's possibilities to make you delighted. Our programs begin with the standard sit, stay and come. But as your canine breakthroughs, we offer more tough requests that are used in our other programs! These are made to keep your dog involved as well as on their toes.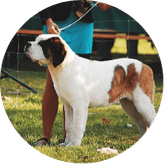 Show Dog Handling Class
Your dog is your best friend and if you think he or she has what it takes to compete as a dog show, let us help you prepare your dog for the show ring!

House Breaking & Potty Training
House training your puppy has to do with uniformity, perseverance, and favorable support. The goal is to infuse great behaviors and develop a caring bond with your pet.
Experts advise that you begin residence training your young puppy when they are in between 12 weeks and 16 weeks old. Then, they have enough control of their bladder as well as bowel movements to discover to hold it. With Happy Pooch Styling & Spa's expertise, we provide you the devices and strategies to ideal home train your brand-new furever friend.

Puppy Training
Signing up in puppy courses prior to 3 months old can be an superb ways of improving training, reinforcing the human-animal bond, as well as interacting socially young puppies in an environment where threat of disease can be minimized. In general, pups can begin puppy socializing courses as very early as 7-8 weeks old. Young puppy socializing courses offer a safe and also organized ways of mingling pups and more quickly enhance their responsiveness to requests. Early and sufficient puppy socialization and also programs of favorable pet training can go a long way to preventing actions troubles as well as boosting bonding between humans and also dogs. While the initial 3 months is one of the most important pup socialization period in a pup's life, proprietors of young puppies that have actually passed this turning point are highly encouraged to remain to socialize their young puppies to as many people, family pets, and also locations as practical.

Come visit our pet supply store in Lynden, WA specializing in quality food, treats, and supplies for cats and dogs.